Meet Dr. Gurutrang Khalsa
Finding His Path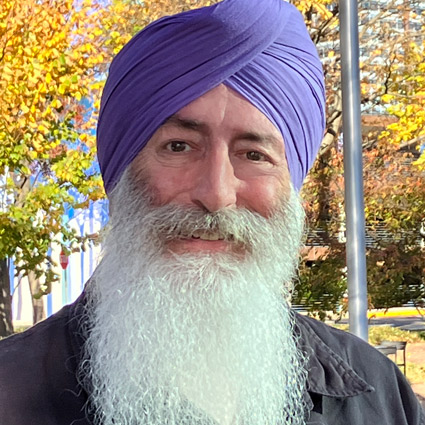 Dr. Gurutrang Khalsa grew up in Baltimore and began practicing Kundalini yoga as a senior in high school. This spiritual practice has informed every decision and path he's gone down in life, including becoming a chiropractor. After graduating from the University of Maryland, he studied chiropractic at the Southern California University of Health Sciences in Whittier, California.
His practice philosophy includes a multi-pronged approach. He incorporates chiropractic, physiotherapy and acupuncture with his treatment. He feels that part of the healing comes from a positive connection with their doctor, which is why you will never be rushed through the office. Patients don't wait hours in the waiting room, and are always seen by Dr. G for a 1-on-1 appointment. You will never be passed along to an assistant.
He feels that healthcare should be affordable for everyone, which is why he accepts most major insurances, medical, automobile accidents, and private pay.
He looks forward to seeing you soon.
Discovering a Philosophy
Dr. Gurutrang incorporates his experience & knowledge from all the methodologies he's studied in a focused way to identify and correct
subluxations in the spine
.
Over the years, Dr. Gurutrang studied and practiced a number of healing modalities, including acupuncture, applied kinesiology, food allergy testing and neuro-emotional technique (NET). Using these techniques led him to the understanding that subluxations are the cause of nervous system interference, which results in the body functioning at a suboptimal level—and that putting his hands on a person's spine to remove that interference was the greatest thing he could do.
A Space for Healing
Dr. Gurutrang is motivated to use his own life challenges to improve himself and inspire others. As part of this mission, Herndon Chiropractic & Acupuncture Care has moved to a new office that better reflects our dedicated, one-on-one approach to wellness. The space is fresh and modern, with a warm, peaceful vibe to help patients achieve their health goals.
Away From The Office
Dr. Gurutrang has been married to his wife Gurumata Kaur since 1979, and they have one adult son, Shabd. Dr. Gurutrang still practices Kundalini yoga, and he is an accomplished musician – you can find his CDs at spiritvoyage.com. He's passionate about sports and attends most Baltimore Ravens home games, cheering for the team quite vociferously.
Schedule Today
Contact us today to book an appointment with Dr. Gurutrang!
---
Dr. Gurutrang Khalsa | (703) 481-9000